Astronomers have discovered the brightest galaxy by far yet found in the early universe. Additionally, they have found strong evidence of examples of first generation stars within it. These previously theoretical objects were the creators of the first heavy elements in history, the building blocks of all the stars, planets and even life. The newly found galaxy is known as CR7 and was discovered using ESO's Very Large Telescope in Chile.
Known as "Population III" stars, these first generation of stars has long been theorized. They were born out of the primordial material from the Big Bang. These first stars were formed out of the only elements to exist prior to stars: hydrogen, helium and trace amounts of lithium. Heavier elements such as oxygen, nitrogen, carbon and iron were formed inside the stars.
Population III stars would have been enormous, up to a thousand times more massive than our sun. They would only live about two million years before exploding in a giant supernova. Up until now the physical proof of these stars has eluded astronomers.
The study looked at the universe about 800 million years after the Big Bang. A number of young bright galaxies were found with CR7 being the brightest, by far the brightest galaxy ever discovered at point in time after the Big Bang.
The instruments found strong ionised helium emission in CR7 but no sign of heavier elements. This was especially important as it provided direct evidence that Population III stars had ionised gas within a galaxy in the early Universe.
Within CR7 astronomers also found bluer and somewhat redder stars indicating that the formation of Population III stars occurred in waves.
Data was obtained from not only the VLT but also from the Keck Observatory and Subaru Telescope as well as the Hubble Space Telescope. As instruments become more and more advanced and accurate, astronomers are beginning to be able to see the beginning of, and creation of the Universe itself.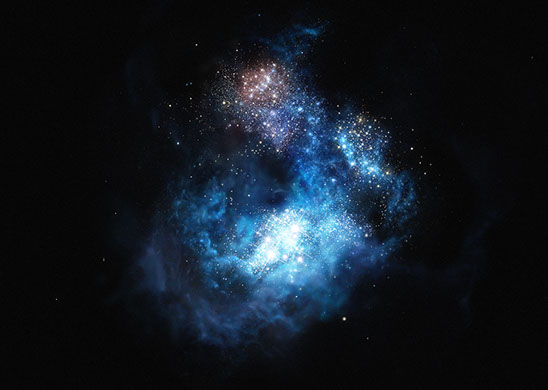 Artist concept of CR7
Credit: ESO/M. Kommesser